Retail investor sentiment on euro vs pound sterling sets new bullish record
Sentiment towards WTI equals high not seen since October 2019
61.2m securitised derivatives were traded on Spectrum last month
Spectrum Markets, the pan-European trading venue for securitised derivatives, has published its SERIX European retail investor sentiment data for July (see below for more information on methodology), including record bullish sentiment towards the euro against pound sterling, as well as for WTI.
Sentiment on EURGBP jumped to a new record high of 119 last month, resuming a trend of increasingly positive sentiment that started in June last year when it recorded a SERIX value of 78. This came as the European Central Bank held its first meeting since announcing a new, and more tolerant, 2 per cent inflation target.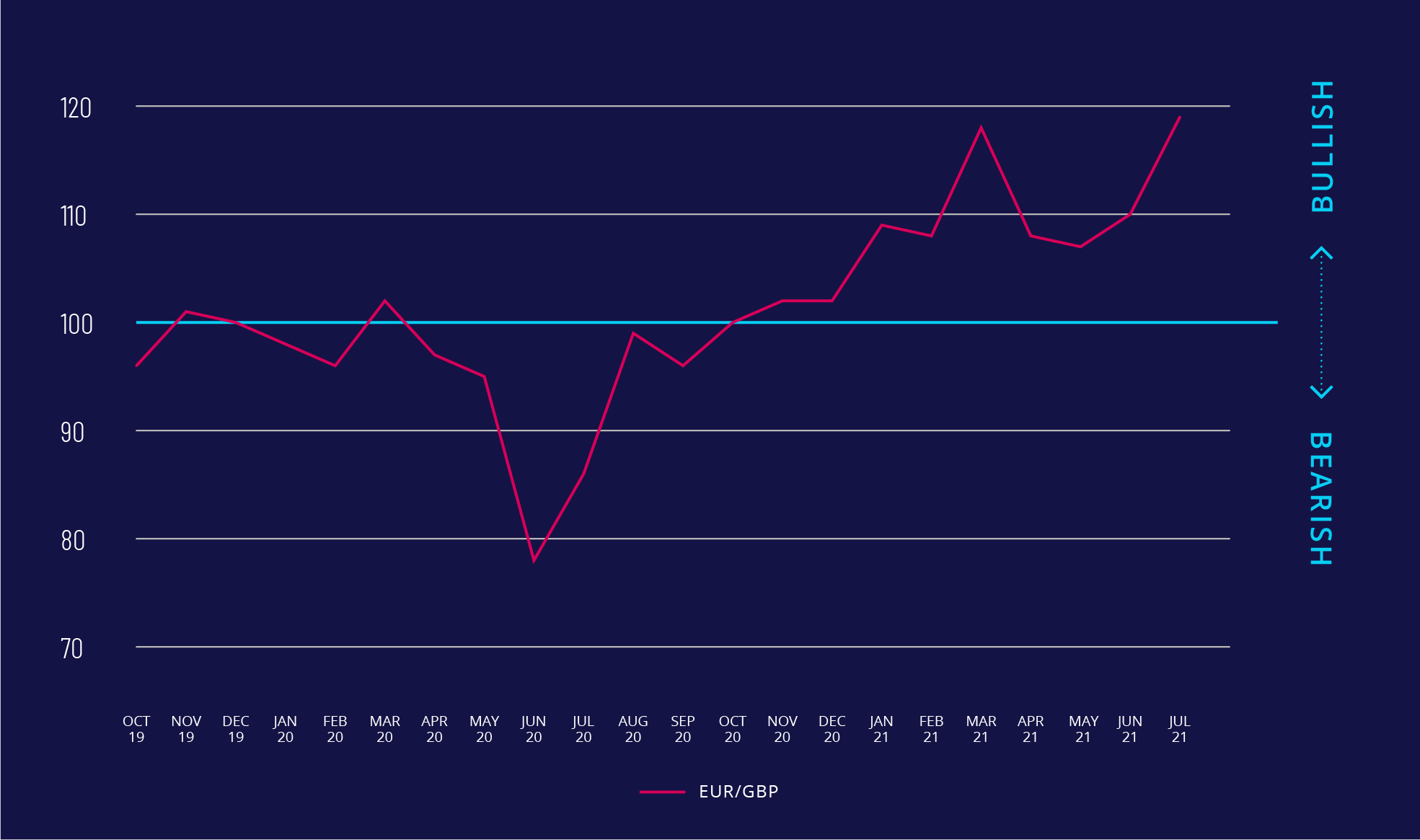 "We've seen a marked improvement in sentiment towards the euro-pound pairing developing since last summer, and its SERIX notched up a new record high in July," notes Michael Hall, Head of Business Development at Spectrum Markets. "Unsurprisingly the ECB meeting on the 22nd attracted a lot of interest from the market, and we certainly saw a big uptick in trading volumes that day from retail investors on our platform."
Monthly retail investor sentiment towards WTI also reached record levels, with a SERIX value of 105, up from a bearish 96 in the previous month. July's figures equalled the previous highest bullish sentiment for WTI, set when Spectrum first launched in October 2019, which is also the date from which SERIX data is calculated.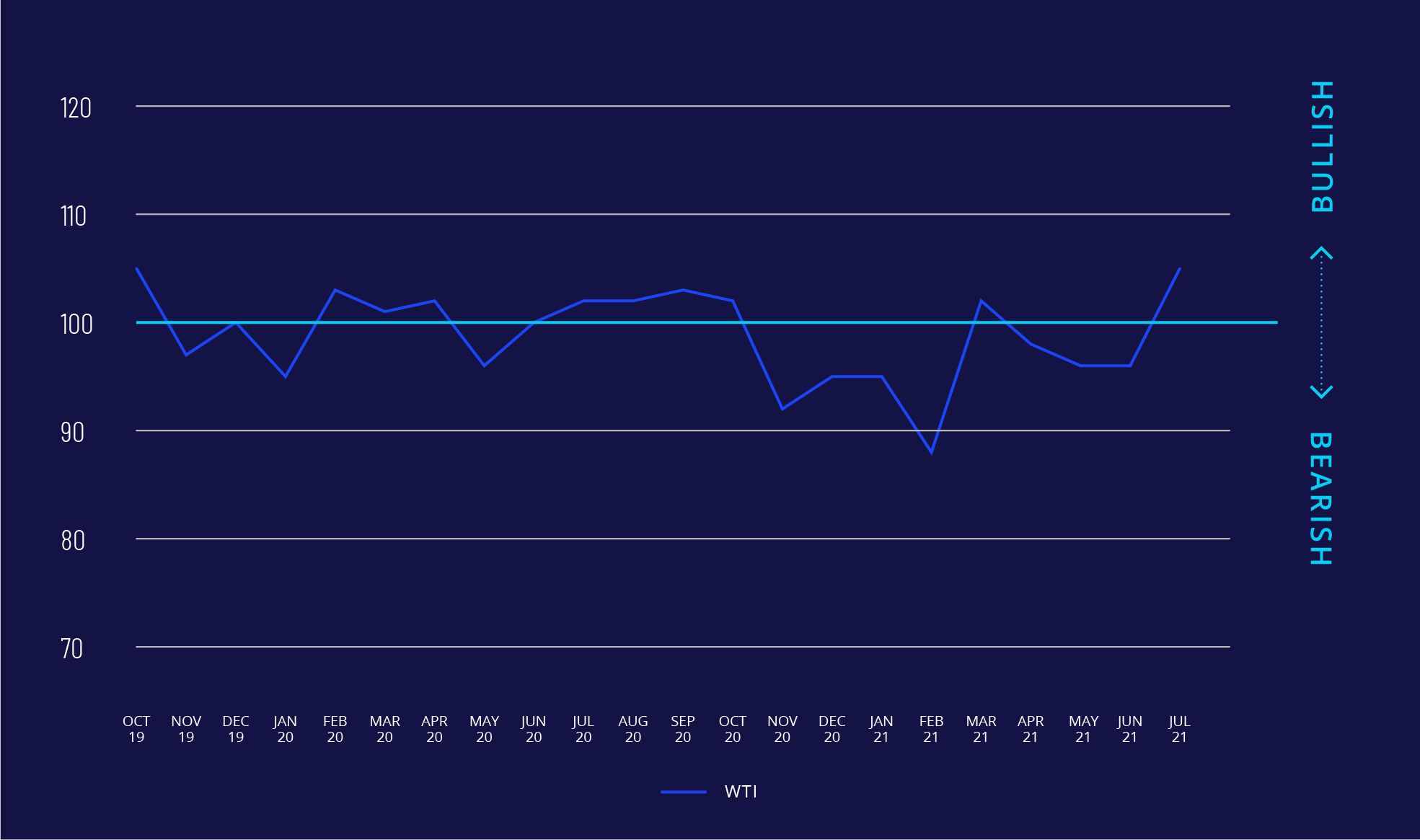 "While we saw Opec+ members agree a new deal in July to increase production starting in August, the jump in sentiment suggests retail investors believe another 400,000 barrels per day will do little to bring down prices in the near term," Hall explains.
During July, 61.2 million securitised derivatives were traded on Spectrum, with 31.7% of trades taking place outside of traditional hours (i.e. between 17:30 and 9:00 CET). 84.5% of the traded derivatives were linked to indices, 7.2% to currency pairs, and 8.3% to commodities, with the top three traded underlying markets being DAX 30 (32%), OMX 30 (16.4%) and NASDAQ 100 (12.9%).
Looking at the SERIX data for the top three underlying markets, the DAX 30 crept into bullish territory, rising from 98 to 101, while the OMX 30 continued to reverse some of the bullish momentum seen this year, dropping from 94 to 92 in July. Sentiment on NASDAQ 100 meanwhile rose to 98, up from 91 in June.
Calculating SERIX data
The Spectrum European Retail Investor Index (SERIX), uses the exchange's pan-European trading data to shed light on investor sentiment towards current development in financial markets.
The index is calculated on a monthly basis by analysing retail investor trades placed and subtracting the proportion of bearish trades from the proportion of bullish trades, to give a single figure (rebased at 100) that indicates the strength and direction of sentiment:
SERIX = (% bullish trades - % bearish trades) + 100
Trades where long instruments are bought and trades where short instruments are sold are both considered bullish trades, while trades where long instruments are sold and trades where short instruments are bought are considered bearish trades. Trades that are matched by retail clients are disregarded. (For a detailed methodology and examples, please visit this link).
About Spectrum Markets
Spectrum Markets is the trading name of Spectrum MTF Operator GmbH. Headquartered in Frankfurt am Main, Germany, it is a pan-European trading venue for securitised derivatives aimed at financial institutions and their retail investors. Since launch, trading has been available in: Germany, France, Italy, Spain, Sweden, Norway, the Netherlands, Ireland, and Finland.
Regulated by BaFin and MiFID II compliant, the exchange uses a uniquely open architecture system to allow investors to trade with increased choice, control and stability. Through its pan-European ISIN, 24/5 trading services and its own proprietary venue, Spectrum enables a guaranteed baseline level of liquidity over a range of products and is able to swiftly and safely match a significant number of orders and process multiple quotes every second.
Further information can be found at spectrum-markets.com
Media contact
Liminal
T: +44 203 778 1103
E-Mail: vasiliki@liminalcommunications.com
Disclaimer
All information contained herein is for information purpose only and addresses exclusively Members of Spectrum Markets and persons interested in becoming a Member of Spectrum Markets. Nothing herein constitutes an offer to sell or a solicitation of an offer to purchase any securitized derivatives listed on Spectrum Markets or any product described herein. Spectrum Markets does not provide financial services, such as investment advice or investment brokering. Prospective retail investors can trade such products only with their brokers. The information herein does not constitute investment advice or an investment recommendation. Any information provided does not have regard to the specific investment objectives, financial situation and needs of any specific person who may receive it. Turbo Warrants are complex financial instruments and investors may experience a total loss.